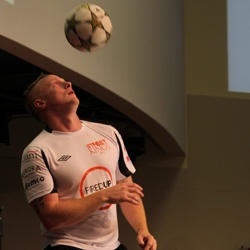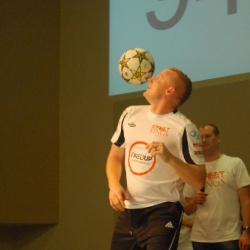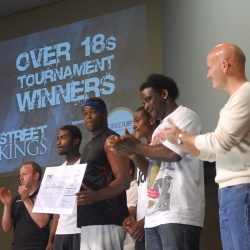 Fired Up was proud to sponsor soccer skills specialist, Dan Magness as he smashed the Guinness World Record for the number of shoulder ups. Beating his own previous record of 402 Dan went on to complete 963 in front of a stunned crowd at the Street Kings football event in Huddersfield.
Street Kings is a 3-a-side football tournament created to showcase a special array of skills. The games are dynamic, fast paced and action packed with no offside rules and no corners or penalties.
The competition was an official regional heat for the UK Street Soccer Championship with the tournament winners automatically qualifying for the national finals.
The event was organised by Huddersfield Christian Fellowship and held at Cathedral House. All age groups took part. Fired Up Corporation sponsored Dan Magness's football shirt and kindly donated the £250 prize which went to the winners of the over 18's category.
A big well done to all teams and special congratulations to Dan on his new world record.